So, we are driving an
open-source animation project
. What does this means? All sources are published when the final work is released. OK, that's simple. But we also trying to cover the production process itself by publishing the in-progress data. And here comes the question: how much of this work-in-progress should we share? Answering this question is not that simple, because of, you know…
SPOILERS
. From one hand, we love to share a pieces of our in-production data. On the other hand, we really would like to keep our viewers intrigued until the last minute. Hard choice!
But we have come to a very simple solution. The following schema will take place:
The content that classified as containing spoilers is published on the website, but hidden (locked) from the public view.
When the new episode is released, all hidden content related to it becomes publicly visible.
On our Patreon page we have introduced a new category of supporters – Premium Patrons. Premium Patrons have a special privilege for an early access to the hidden content before the release.
Below you can see how the hidden content will appear on our website.
In-Production Content
This content is temporary hidden from public and available for our Premium Patrons only. If you are Premium Patron, please sign in to view.
---
List of posts with hidden content: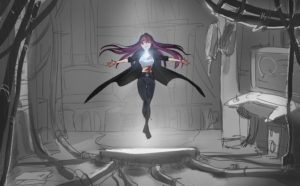 Episode 4
It's time to give a quick summary about our progress since the last production report! First and big: Nikolai Mamashev have finished mesh modeling  for Koschei – the main villain of Morevna series. Here is
Read More »