"Papagayo" is a lip-syncing program designed to line up phonemes (mouth shapes) with the actual recorded sound of actors speaking.
Papagayo was originally developed and released as open-source by Lost Marble. The version presented here is maintained by Morevna Project and have following differences:
Support for various languages (English, Dutch, Finnish, German, Hungarian, Italian, Norwegian, Portuguese, Russian, Spanish, Swedish, Turkish, Ukrainian).
Support for various phoneme sets (Preston-Blair or Flemming-Dobbs).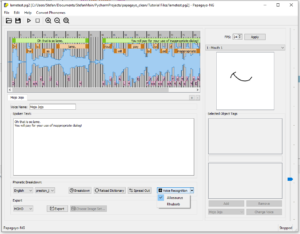 Hello all!Some people might already know me, especially if you are already using Papagayo-NG.Konstantin offered me to use this platform
Read More »