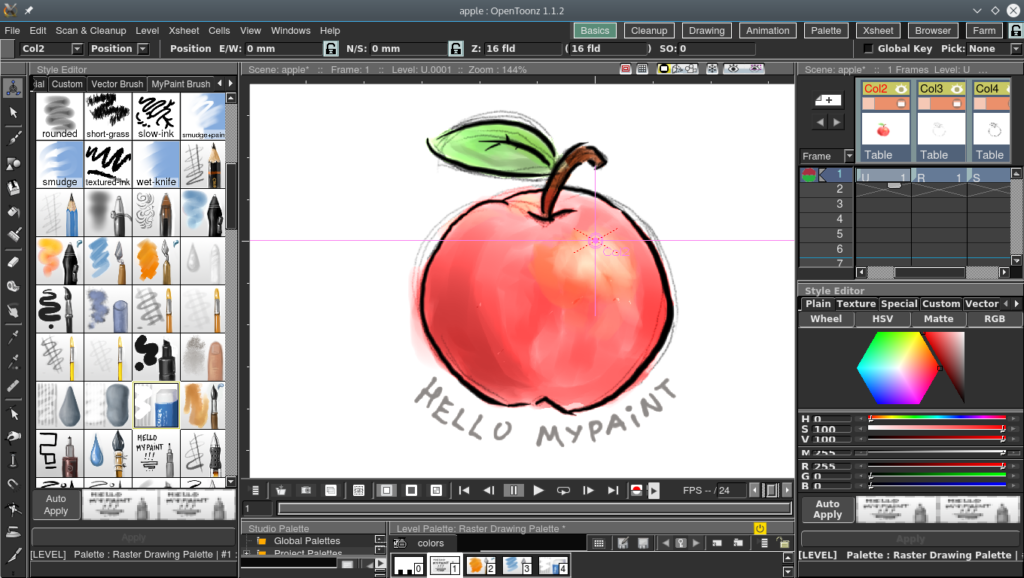 On March 29th we have published a new update for our OpenToonz packages (for Windows and Linux). This update delivers a bunch of fixes and improvements for MyPaint brushes. Check them all below.
Download OpenToonz for Windows & Linux
1. Stroke interpolation
In previous versions if you draw lines very fast, then you might get polygons instead of curves. This build introduces stroke interpolation, so you always get smooth results.
2. Default Brush is back
The old native brush of OpenToonz now explicitly available in the list of MyPaint brushes – it appears first in the list marked as "no brush".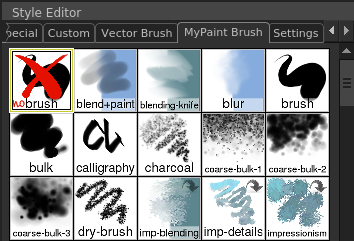 Also, you can notice the top properties toolbar now looks different depending on which you use (native or MyPaint one).


The "Size" property for MyPaint brush now works as multiplier to the "Size" value, defined in brush settings (in the same way as it works in MyPaint).
3. Brush settings editor
This is probably most popular improvement request that we've got from our users.  Now you can edit any brush settings! Just select MyPaint brush and switch to "Settings" tab of "Style Editor" panel. There you will find all 45 brush parameters.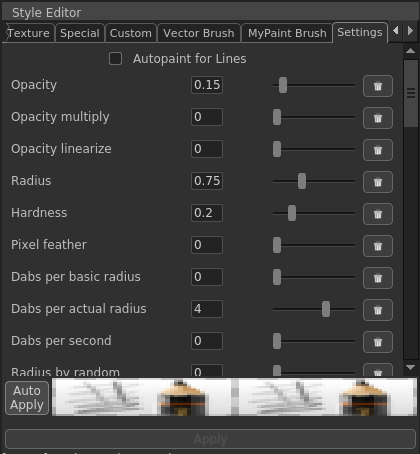 Changing a parameter will override its corresponding value for selected brush preset (on "MyPaint Brush" tab). You can reset the parameter to its original value by clicking trash icon near parameter slider
4. Improved styles management
Every time when you choose new brush preset in "MyPaint Brush" tab, all your changes in "Settings" tab are lost. But I guess you want your modifications saved as your own presets? We've got this covered by improved integration with styles functionality of OpenToonz.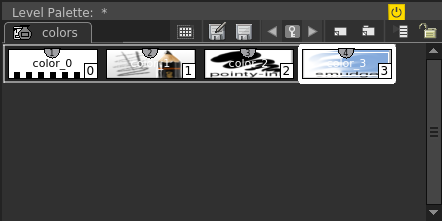 Your current MyPaint brush preset together with all changes made in "Setting" is saved as style in "Palette" panel. So, if you wish to switch to new MyPaint brush, but want to keep your adjustments in "Settings" panel, then just create a new Style. See details in the video below.
5. Fixes
Finally, the new version delivers various fixes related with MyPaint brushes – opacity control now works for all brushes, implemented support for one-pixel and sharp brushes.

That's it!
If you downloaded OpenToonz earlier than 29th of March, then it is highly recommended to download the latest version with all described changes.
Download OpenToonz for Windows & Linux
Now all our changes are submitted to be included into official version of OpenToonz and we are working hard to get them approved (see #1124, #1092, #1118).
Unfortunately, this is not fast process, so meanwhile we will continue to deliver our testing builds with all latest fixes and updates. In the nearest future we plan to deliver 32bit Windows builds. Also, we decided to deliver OSX builds as well, so now we re working to make this happen. Use the form below to subscribe if you wish to get email notifications about our progress.
P.S. If you found a bug in OpenToonz related with MyPaint brushes funtionality, please submit it here.