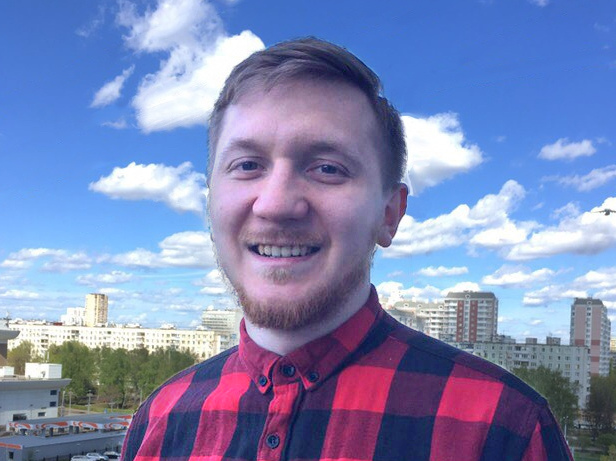 If you follow OpenToonz-related news at our blog, you might know the name of Agnyy Ignatyev (his GitHub profile) – the guy who continuously puts his efforts and money into improving OpenToonz.
Agnyy is prototyping concepts of new features, finds people who can implement them and pays them out of his own pocket to get the feature implemented. Thanks to him we now have Horizontal Timeline and Advanced Color Selector features, and he have many other things currently in progress. I took an opportunity to ask him a few questions about his work.
Hi Agnyy! I know that you are quite regularly investing some money into OpenToonz development by hiring freelancers for implementing some features. Where do those money come from?
Those are my personal money that I earn.
And what is your job?
In the past I've been working at various studios ("Parovoz" and "Soyuzmultfilm", for example) and also has been doing animation teaching for teenagers. Right now I am freelance animator and also doing consulting for various studios.
How many paid developers you've been worked with?
So far I've been working with 4 paid developers. Here are two of them who made most contributions – Jaroslav (https://github.com/jaros3) and Сaryoscelus (https://github.com/caryoscelus). Also, I would like to mention that many of implemented features wouldn't be possible without Manongjohn (https://github.com/manongjohn) who is constantly working on polishing and improving them, bringing to usable state (although, he is not paid by me at all).
And what are your nearest plans for improving OT?
Well, I still have Animation of Vector Strokes feature unfinished. Hope to get that done, but right now I am looking for developer who can finish this.
Also, I am working on a BigPack – a package of re-usable elements for creating motion graphics in OpenToonz. In fact, it is already available for download here.
OK, my main question: What motivates you to invest your time and money into OpenToonz?
I am inspired by several things.
First awesome thing is that OpenToonz is freely available for everyone. And that means it is possible to use it legally for teaching animation in schools. So, children can easier to find animation as their hobby. This is a big value for me.
Next valuable thing is the possibility to change the software. It is open-source, and that means I have possibility to transform the application for my needs by adding an interesting features.
OpenToonz is very flexible software and development is fast. That means any technical problems that can arise in production process can be solved very quickly.
Finally, this software is something that unites animation artists from all around the world. I am so happy to see all those people with many different approaches for creating animation – they all use the same tool and I feel this as something important. It makes us feel part of something big.
Thank you Agnyy! And thank you from me personally for everything you did (and do) for OpenToonz!
From myself I would like to add that the purpose of this post is also to let you know, that Agnyy now have a Patreon page. So, if you wish to thank him for all his work he is doing for all OpenToonz users for free, please consider to support him by pledging any amount to his page. I am sure with your support he will be able to do much more for future of OpenToonz!