( читать по-русски | Russian translation )
Hello, my dear reader! It's only a few days left before the 1st of September, which is not only the Knowledge Day (in Russia), but also is a deadline for our "Vectorization and Tweening" stage. We are working very hard to get everything done, but looks like we are going to get an extra week to have everything finished. On the other hand, we are ahead of schedule with 3D works, which is good. The rest of September will be dedicated to  backgrounds painting and 3D works, as planned.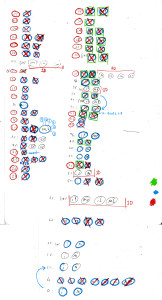 Few words about our  community call for soldiers models. For some reason it is not gained much popularity, but we got a few interesting submissions. One of them is made by Marco Antonio Real Adame was mentioned in one of my previous reports. But besides making soldier variation, Marco decided to go for second stage and created an animation for it, which will be used in shot 07. Here it is:
Due to lack of submissions for soldiers community call we have analyzed our schedule and decided to extend the deadline until the September 20th.  Everyone who wants to have some fun with soldiers and get the mention in the credits is welcome to participate!
And of course, here's the usual statistics for the vectorization call:
Jcome: 26
Pixelgeek: 4
Animtim: 3
LoboZamora: 14
That's all for today, we are getting back to work. Have a great week!