EDIT: The call is closed. Thank you everyone who participated!
Today we're taking one more step to attract the community to Morevna Project development. This time we will ask for attention from Synfig users.
Let me introduce you: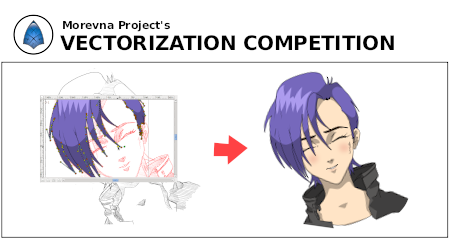 We are working hard vectorizing and tweening the keyframes made by Nikolay. Still, looks like efforts of two men are not enough here. We are asking Synfig users to help us with keyframes vectorization.
All keyframes should be vectorized using stickman template. This process is described in video tutorial here. We will provide a .sif file with everything set up in place (keyframes combined with stickman) and your job is to vectorize all parts according to "stickman workflow. All vectorized parts should be attached to stickman – this is mandatory requirement.
We have spent a lot of time thinking about the best way to organize this process. We're on the hard deadlines, so we understand that we need to optimize it as much as possible. That's why we have decided to turn this process into a game!
Here are the rules:
You contact us by e-mail (see below) identifying that you are willing to offer vectorization help.
We will assign the task to you and send you all supporting files – zipped sif file with keyframe image, plus some notes about coloring, line width, etc. One person cannot take more than one task at once.
We will wait 48 hours for you to submit the finished task. Possible cases:

The finished result isn't submitted within 48 hours – the task is transferred to another person.
The finished result submitted within 48 hours – we review it and if accepted you get 1 point to your personal score.
The finished result submitted within 24 hours and if accepted you get 2 points to your personal score.

We contact you informing about results. The task is over.
Whether you succeed completing task or not, after the task is over you can contact us to get the next task and process is repeated. The higher your score – the more complex tasks are available to you.
The  game will be finished on September 1st.
We will appreciate your help very much. and of course everyone with at least one accepted work will get mention in the credits.
So come on, Synfig community! Join us! Join our little competition!