Synfig has no feature to manipulate camera view. Me and Genete arranged a workaround to have a camera fake using logarithm convert type and the zoom layer.
Download
Here's the latest version of camera widget: camera-view-0.3.sifz.
License: Public Domain.
You could find instructions on it's usage below.
Tutorial
Some synfig users got confused about the managing ValueBase Nodes of imported canvases. This tutorial demonstrates the usage of camera widget and also shows how this problem is solved in synfig-fu.
Download camera-view-0.3.sifz (camera widget itself) and example.sifz (background which we will pan and zoom). Rename camera-view-0.3.sifz to camera-view-example.sifz – this will be a "instance" of camera widget containing pan/zoom data for particular file (example.sifz).
Open camera-view-example.sifz in Synfig Studio. The red border shows the area visible in camera view. You could manipulate camera by clicking on the black semi-transparent box and dragging the widget ducks.
Select "File" -> "Import" command, choose example.sifz file and press OK. The example will be placed on top of all layers. Place it at the bottom of the layers stack.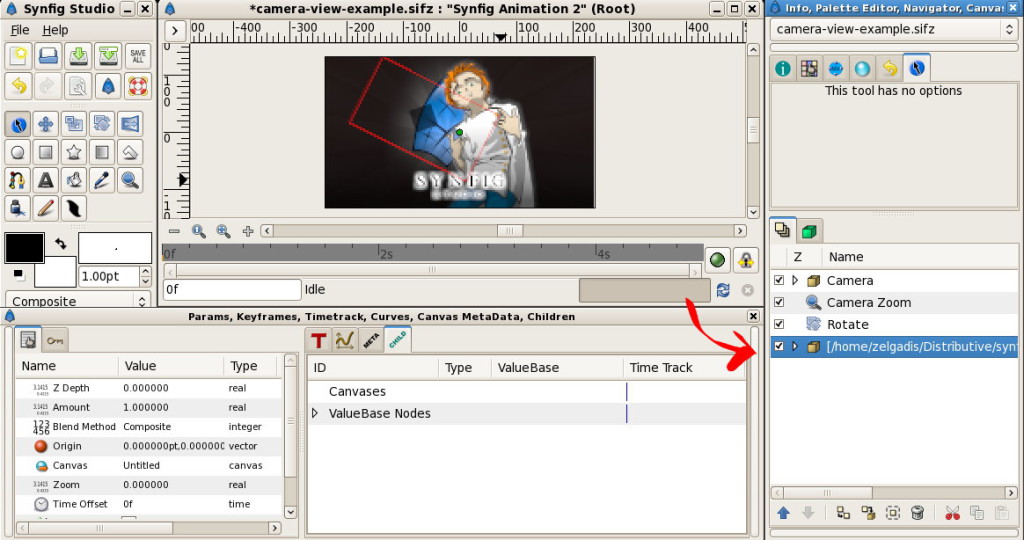 Go to the Library Panel. There you can see "camera view" ValueBase Node checkbox (it's hidden inside of "ValueBase Nodes" tree). It allows to switch between view from the camera and general view.
But the example.sifz file contains its own ValueBase Nodes which are not shown here. To get access to them just open the example.sifz (but keep leave camera-view-example.sifz opened).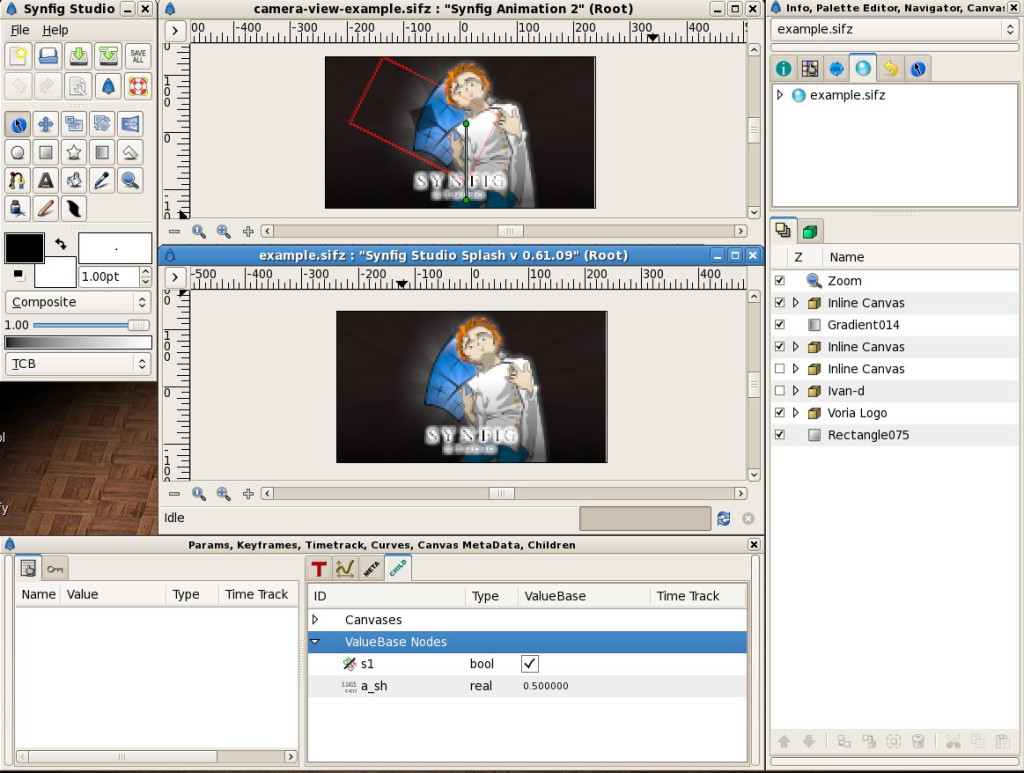 Switch to the just opened canvas window and look at the Children Panel. There you will see ValueBase Nodes belonging to example.sifz file. Modify the "a_sh" ValueBase Node. You will notice, what  modification will affect not only example.sifz file, but camera-view-example.sifz too. That's because the example.sifz was linked to the camera-view-example.sifz file during import.
So, here's the workflow: if we want to change the camera animation, we will work in the camera-view-example.sifz window, but if we want to change the animation which we pan or zoom, we just switching to the example.sifz window and work there.
That's all for today, good luck!