If you visit our "Budget" page at OpenCollective, then you might notice the donation of $30 000 landed to our account yesterday.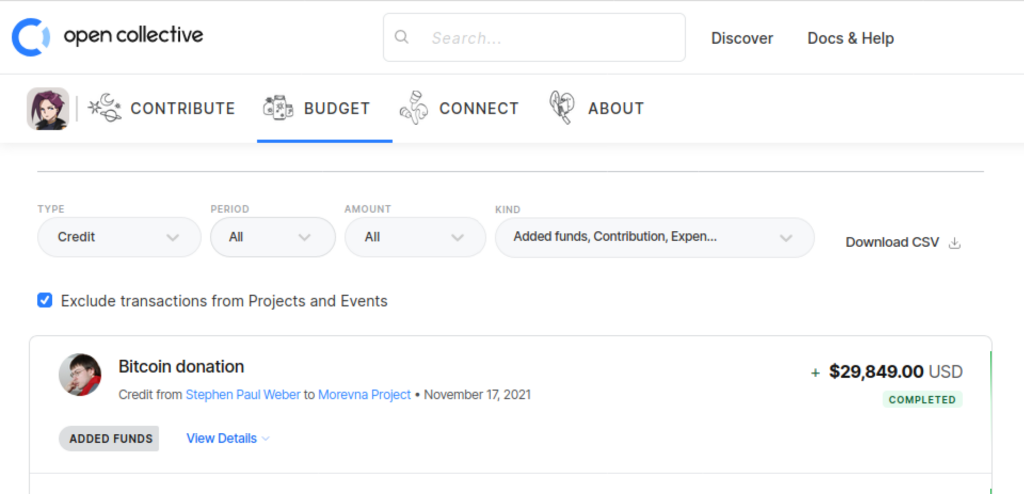 The donation came from a single person – Stephen Paul Weber, and you probably remember that he is already sponsored our project in February this year when he donated ~$7500 for creating new episodes of Pepper & Carrot Motion Comic.
This time he provided the following note about donation usage:
I would like it allocated in the collective approximately as follows: enough to fund an episode of Morevna Anime, then the rest split evenly between Morevna School and more Pepper & Carrot
I would like to note that earlier this year I had a conversation with Stephen, where I mentioned that producing one episode of Morevna costs approximately $14000. Also I have discussed my idea and vision  about Morevna School – an initiative to provide free educational content on creating animation with free software (my recent video covers that in some aspect and I plan to provide more details about this in one of my following posts).
So, we have the funds arrived to our OpenCollective account and I have distributed them among the projects as follows:
$ 14 000 – Production of Morevna Episode 2.
$ 6 000 – Pepper&Carrot Motion Comic.
$ 6 000 – Morevna School.
Remaining part stays for covering general project costs ant platform fees.
Note: you can read more on how we use features of OpenCollective to separate budgets and transparently manage finances here.
So, we use the donated funds to resume production of Morevna Episode 2 (which has been in "idle" state for a few months already). Anastasia Mayzhegisheva, who is already known for her work on earlier episodes (3 and 4), will be responsible for main artwork, other participants are to be announced soon. For production of the episode we will use OpenToonz.
Also, we will work on creating free educational content as part of Morevna School initiative. And, of course, more Pepper & Carrot!
Many thanks to Stephen Paul Weber from all our team for supporting our work! Stay tuned for our progress!