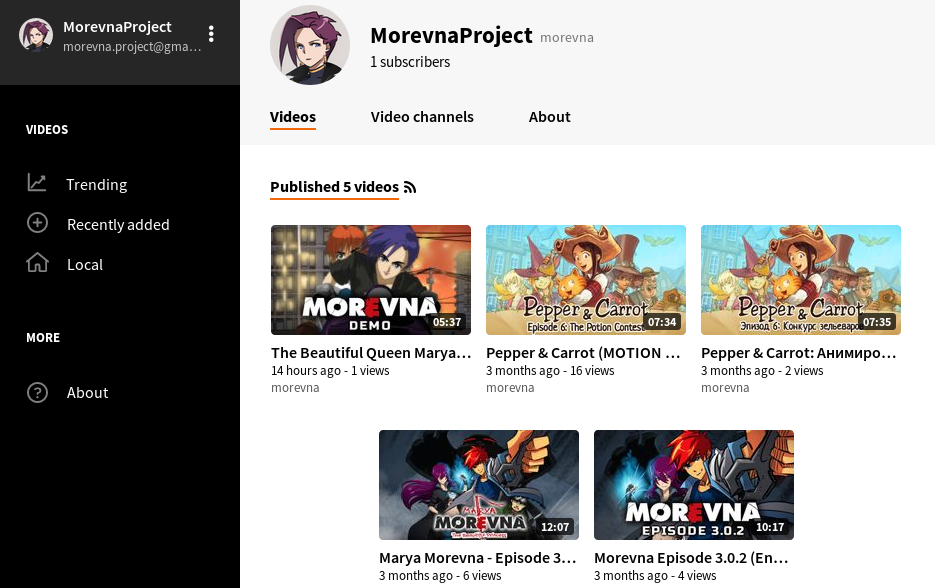 Morevna Project got an official PeerTube channel now!
Check it out here – https://peertube.touhoppai.moe/accounts/morevna/videos.
PeerTube is an open-source decentralized alternative to YouTube, which allows anyone to host their own videos. This is a very promising technology with a features of federated network. You can read more about it here – https://joinpeertube.org/en/.
We are not going to abandon our YouTube channel, but it is very likely that our animated shorts will get released on PeerTube a few days earlier. I hope that this could help to attract more attention to this platform.
You can subscribe to our channel by following @morevna@peertube.touhoppai.moe using mastodon/fediverse client. Another option is to subscribe via RSS on https://peertube.touhoppai.moe/feeds/videos.xml?accountId=85.
Much thanks to Olivier Jolly from Touhoppai team, who kindly provided an account on their server and assisted with setup.
Visit PeerTube channel of Morevna Project
P.S. BTW, right now PeerTube is running a crowdfunding campaign for releasing their awesome version 1.0. It is only 10 days left and your support is much appreciated – https://www.kisskissbankbank.com/en/projects/peertube-a-free-and-federated-video-platform