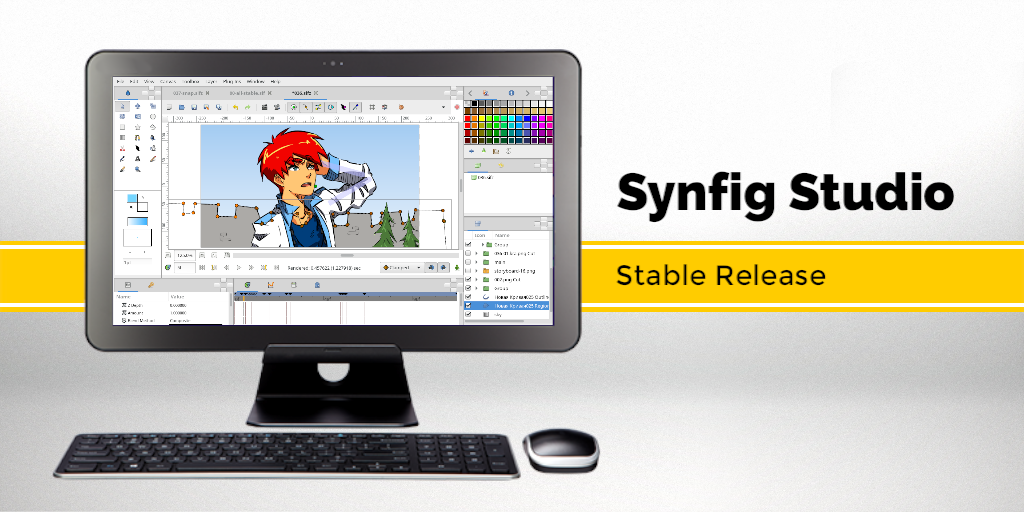 New stable version of Synfig Studio is available for download! This update delivers important fixes for previous stable version and recommended for all users. Much thanks to everyone who supported our efforts by donating via download page, purchasing training course, and provided continuous support through Patreon page – this release is here thanks to you!
List of changes
Rendering engine:
Fixed rendering of text with international characters on Windows (issue #379). Thanks to Ivan Mahonin.
Fixed algorithm of Fast Gaussian Blur, eliminating the random artifacts. Thanks to Ivan Mahonin.
Fixed incorrect rendering of Twirl Layer and Noise Distortion Layer (issues #305 and #316). Thanks to Ivan Mahonin.
Improved performance for complex scenes with more than 1000 vector elements (issue #314). Thanks to Ivan Mahonin.
Fixed Z-Depth issue for ungroupped layers (issue #299). Thanks to Ivan Mahonin.
Initial value of quality of Preview now independent from current zoom level and set to 1.0 by default. Thanks to Ivan Mahonin.
Other changes:
Fixed support for graphic tablets in Windows version (issue #241). Thanks to Ivan Mahonin.
Fixed crash with XP-Pen G540 tablet (issue #351).
Fixed crash of Skeleton plugin (issue #334). Thanks to Caryoscelus.
Filenames with international characters now correctly remembered in "Recent Files" menu. Thanks to Ivan Mahonin.
Fixed size of dock area drop buttons for Gtk >= 3.20 (issue #227). Thanks to Caryoscelus.
Fixed "FFmpeg not found" error in Linux AppImages (issue #332).
JACK support is now available for Linux AppImages (issue #395).
Basic support for CMake build system. Thanks to Caryoscelus.
What's next?

We will keep working on improvements and optimizations for Synfig's rendering engine. Actually, there are already some interesting features and fixes landed to the master branch and waiting to be tested. They will be delivered with next development version and you can expect more of them soon.
Also, we plan to address other most critical bugs (such as auto-recovery problem). Bounty-supported issues also will get a special attention. Please visit this page to see our queue list and track our progress.
As usual we appreciate your support and donations via downloads or Patreon page. Also, you can support the development by placing a bounty for some bug via BountySource service (in the same way as it was done for issue with rendering non-latin text characters). Thank you!