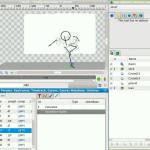 During the drawing of keyframes for scene 20 we decided to concertize the motion of Ivan by using stickman. Generally, making stickman in Synfig is a simple task, but this one – with forward kinematic.
We made two videos about the process. First video is about finishing making stickman in Synfig Studio – only one hand left, and the head. Next one is about animating the top part of the stickman, Legs are already set up, animating the rest.
Sorry about the files size, but on YouTube those videos look just awful.
EDIT: There is a simpler approach of making stickman exists – without the need to use Radial Composite Converts and Rotate layers. Anyway, here's two synfig stickman templates: stickman.sifz
and stickman-simple.sifz. Enjoy!