Save the date – Pepper&Carrot Episode 3 will be released on October 28 at 14:00 GMT on our YouTube channel!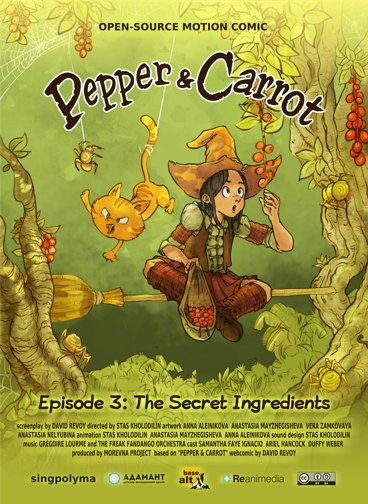 Also, we are calling for premiere hosts: if you have a YouTube channel (or an active account on any other similar platform), and your channel is somehow related with open-source/graphics/animation topics, then we invite you to become a Premiere Host.
The Premiere Host can do a synchronous release of Pepper&Carrot Episode 3 on the owned YouTube channel (or similar resource). For Premiere Host this is an easy way to get unique fresh content and, at the same time, this is a great way to promote open-source animation, open movies and free software.
If you are interested to become a Premiere Host – please fill in this form.
We are looking for YouTube channels with 500 or more subscribers, while for other platforms there are no such requirement on subscribers count.
For approved Premiere Hosts we will provide a copy of the animated short one day before the release.
I appreciate if you share information about our call for hosts with your friends and potentially interested parties. Let's spread a word about open-source animation together!