We are happy to present you the new development version of Synfig Studio! This version delivers you the new feature – Filter Groups.
Filter Groups act just like ordinary groups, with just one exceptions – they do not limit scope for layers. That means, if you put several filter layers into a Filter Group, then they will be mixed together and apply as a single filter to the layers below.
What is this useful for? First, if you have a combination of filters, you can quickly enable and disable them all together with a single click.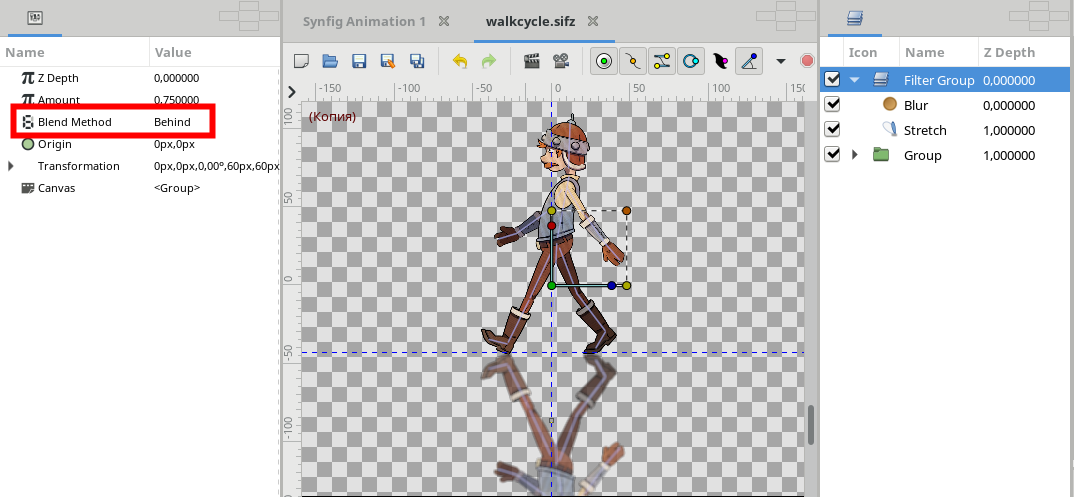 Another advantage is that with Filter Group you can have a better control at which point blending will take place. Also, you can use blending for layers that are not supposed to have it (like Translations, Stretches, etc.). That allows you to easily create effects like mirror reflections and complex shadows.
Please check the video below to see this feature in action.
My special thanks to the user under Zozorg nickname, who have made an initial request for this feature and sponsored its development.
Other changes of this version:
Implemented correct sorting in Sets Panel (issue #372). Thanks to Caryoscelus.
Fix compatibility with ImageMagick 7 (issue #478). Thanks to Matthew White.
Get source code | View revision history