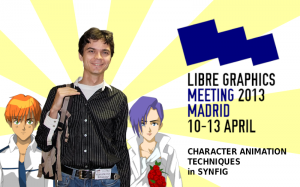 This year I would like to attend the Libre Graphics Meeting (LGM) again. The event will be held in Madrid on 10-13 April. The good news that the main Synfig developer – Carlos Lopez Gonzalez – is going to be there. My plan is to have a productive meeting with him, including the coding sessions.  Also I would like to give a talk/workshop about the character animation in Synfig.
Important: Unlike the previous year, this time I have to ask for sponsorship from the community around. If this campaign will succeed then my travel will be possible.
Attendance of LGM last year gave me a great impulse for Synfig and Morevna development. I believe meeting Carlos and working together during the days of LGM will give even more impressive results. So, if you like the idea of me participating in LGM event, then your support in funding my travel is much appreciated. Thank you!