Today I would like to share my plan how we will make the whole Morevna Project happen.
First of all – we are not going to make the Morevna Project as the whole movie. Instead of this we split our big screenplay into small episodes, each approximately 5 minutes long and release them one by one. So, the Morevna Project will be made as a series. Though, the release strategy is going to be quite unusual. Let me explain.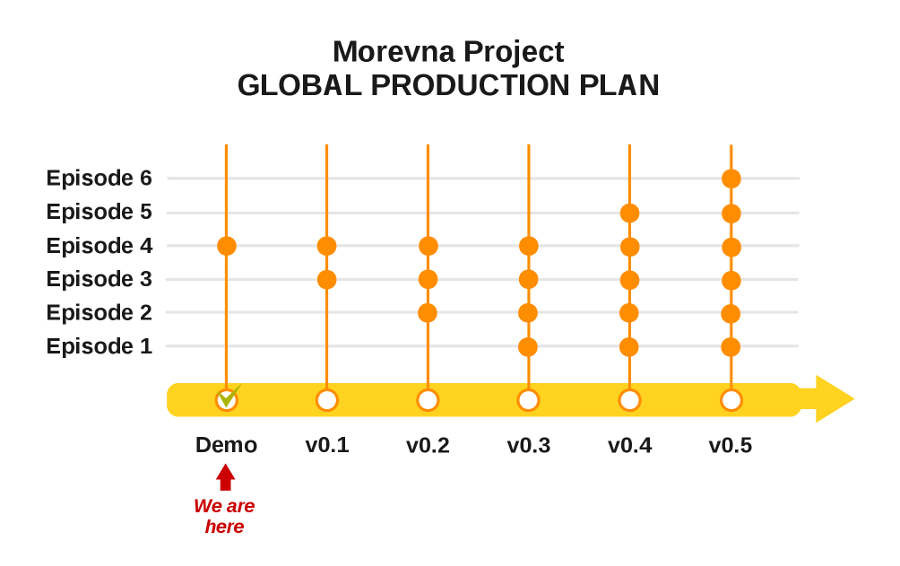 The Morevna project will be released as a sequence of versions: 0.1, 0.2, 0.3, and so on. But the each version represent a sequence of episodes.
The Demo is already almost the same as the 4th episode. Thus, in order to release version 0.1 we will need to make another episode, say 3rd. Obviously the episode 3 will tell  the story how Ivan happened to get where he appears at the start of 4th episode (Demo) – in the destroyed town, lying on the ground among the unconscious soldiers. Then the release 0.1 will contain two episodes – 3 and 4 – and you can watch it from the start as uninterruptible story. Also we will take a chance to polish the Demo (episode 4) so it will look better and consistent and you can enjoy watching it with the extra treat.
For version 0.2 we will need to produce another episode – say, number 2. So the v0.2 will contain 3 episodes – new one and previous released ones. Again we will take a chance to polish previously released episodes and release everything together with a shiny and consistent look.
So this how the release strategy generally looks like:
11.12.2013 – version 0.1
Episodes: 3, 4. Total length: 10 min.
 4.10.2014 – version 0.2
Episodes: 2, 3, 4. Total length: 15 min.
 5.10.2015 – version 0.3
Episodes: 1, 2, 3, 4. Total length: 20 min.
 6.10.2016 – version 0.4
Episodes: 1, 2, 3, 4, 5. Total length: 25 min.
 7.10.2017 – version 0.5
Episodes: 1, 2, 3, 4, 5, 6. Total length: 30 min.
…and so on.
Please don't take the dates too seriously. Considering our existing capacity they are real, but we are really depend on the fact if we will be able to get funding in time.
It's not necessary that we will release all episodes in continuous sequence. But we will make sure that every release (version) can be watched from start to end as a solid show.
When we  finish all episodes, we will stitch them together and re-release as the whole movie. That's the plan. Does your mind already twisting?