( читать по-русски | Russian translation )
It's the 1st of October and it's hard to tell which stage we are now on – because we are still finishing backgrounds, making 3D, putting it all together and polishing it all at the same time. In my previous production plan we have October planned for "Sound and Compositing", but you can guess that the pure month for just that is too much. Right, I especially planned October as an "extra month" that we dedicate to put all odds and ends together. And we are putting them.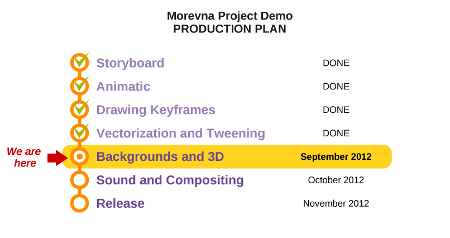 We have most key backgrounds finished and the only tricky part left is to unwrap some of them into 3D scenes – we need to do that in several places. Besides drawing backgrounds, Nikolay also working on polishing animation. He examines the basic tweening done by me and fixes it so the characters animation look solid and smooth. It turns out well, but there is still a lot to be polished.
Marco (Chotio Productions) have finished animation of the last soldiers for shot 07. Now he is proceeding with animation for the main characters. He will make animation of Ivan and Morevna dancing for shots 38, 41 and 55.
I have worked here and there on 3D backgrounds again and compositing. In addition to that I have finished coloring the 3D models of Ivan and Morevna. Also we have updated the blender build again – you can get it from our software page.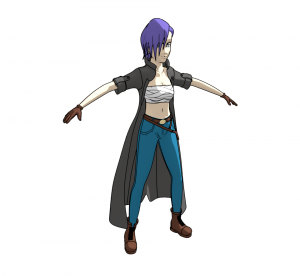 Ivan and Morevna models by Linil Komban and Somnath Karande
That's all for today. Sorry for meagre report this time, but I have to hurry – still lots to be done today. Have a great week! ^__^