EDIT: The campaign is over. Thank you everyone who donated!
See details | Other ways to support the project
Everyone wants to know when the Morevna Project Demo will be finally released. OK, let me finally put some clarification here.
You may notice that since with the beginning of 2012 the Morevna Project got the great pursuit. That's because two main project contributors (me and Nikolay Mamashev) started to dedicate the great majority of our time to the project. We are really would like  to do more and move to full-time dedication. In this case  the Morevna Project Demo will be finished before the end of 2012 year.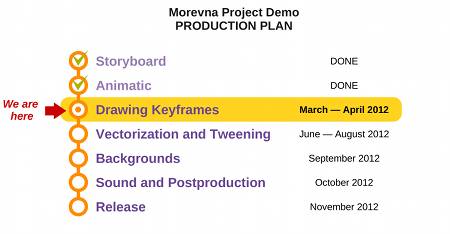 But to make this come true we need your support and that's why we are starting this donation campaign.
For the first time in the project history we got dedicated artist (Nikolay Mamashev) who is willing to redraw all keyframes of the Demo in two months.
We need your support and collect $2200 before the 1st of May to pay for his work. Nikolay isn't going to be rich with those money, but that will allow him to work on the keyframes  during this period without concerns. So, everyone, who wants to see the Demo before end of 2012, please donate here:
The success of the campaign means that on 1st of May we will have all keyframes for the Demo and we will be able to proceed to the next stage – "Vectorization and Tweening". With your continuous support we can finish the Demo within this year and success of the project means that everyone will benefit:
we, because we love doing animation and we will get the project of our dream come true;
you, because you will get another open-movie to enjoy, share, modify and reuse;
and of course
So, come on, let's make this awesome thing happen! Together.

Rewards
In fact we are not just asking for money, but we are offer some rewards for you in return. Here they are:
$40 or more – Your name in the credits. This is a basic reward for everyone who wants to see his name as donor in the final credits scroll. All rewards below including your name in the credits as well.
$100 or more – A printed copy of storyboard signed by the author. You can get English or Russian version at your preference.
$200 or more – A printed copy of full Morevna Project Screenplay signed by the author. You can get English or Russian version at your preference.
$500 or more – Your personal participation as character of the Demo. We will take your photos and create a cartoon character that will be exclusively look like you. In the Demo there is a shot sequence where Ivan and Morevna dancing in the bar. Your character will participate as one of the bar's visitors in this shot sequence.
$1000 or more – A personal "Thank You" animation. We will made a special animation involving you as a character where Ivan and Morevna will say special thank you words to you as a sponsor. We will need your photo to create you-like character.  This special animation will be published at our blog.
Have your own reward idea? Feel free to submit it in the comments!
Who are we
The people responsible for completion of this campaign are:
Konstantin Dmitriev – writer, producer and director of the project.
Konstantin is the founder of Morevna Project. Using open-source software for animation since 2007. List of works made with open-source software:
Nikolay Mamashev – key artist and animator.
Nikolay is contributing to Morevna Project since 2009 year. He makes a great artwork an have a great skills in animation with Synfig Studio. That makes him unique "all-in-one contributor". You can see samples of his works on the project wiki and the newest ones are always can be seen in the recent posts of the project blog. Nikolay worked together with Konstantin on some commercial projects including "Persona" Tomatos Paste commercial (artwork, animation, backgrounds).
Questions and Answers
Q; What happens if you will go over the goal?
The extra money will go to fund the next project stages (Vectorization and Tweening, Backgrounds, Sound works).
Q: What if donation campaign will fail?
The campaign and keyframe drawing takes place in the same time period. So, by the 1st of May keyframes will be drawn anyway. If campaign fails, then I am (Konstantin Dmitriev) will take responsibility to refund all expences to Nikolay for his work. In this case by the 1st of May Morevna Project will go out of funds and return to the same slow rates that you might observe before 2012.
Q: Usually the soundtrack is made at the early stages of animation development. Why there is no sound in Demo snapshot? This looks lame…
Actually we DO have a song as soundtrack for the Demo, but we haven't acquired the right to use it yet. My guess is that the musician may want to support the project when it looks like it will succeed. So we have postponed resolving all soundtrack issues to the last stage when we will have finished animation on hand. Don't worry, for the worst case we have a few backup plans.
Q: How do I know about the progress?
We are publishing weekly reports on our blog. So you will be able to track how the project is going.
Q: What are perspectives of the project after the Demo will be released?
After Demo will be successfully released we are going to follow the screenplay and produce full Morevna, episode by episode.