( читать по-русски | Russian translation )
OK, we're one step from finishing "Vectorization and Tweening" stage. There are just two shots pending for my review and a few soldiers to vectorize, which in fact are background characters. Be sure – we're squeezing most of our free time to get this stage finished sooner.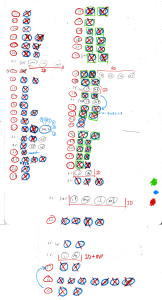 The most of vectorization work last week is done by Nikolay. My work is merging keyframes together and tweening. At the same time I already have started some work on backgrounds. This is necessary to prepare the ground for Nikolay, so he can proceed to this task immediately as soon as vectorization stage will be done. The good thing  is that comparing to previous stage we don't need to invent anything here. The technology is pretty much established and well described on the internet. See tutorials here and here for example. I'm sure it will be no problem to implement the same workflow with existing open-source software.
Also, we have started reparations to render project in full resolution (1920×1080). Too early? No way! We already hit a few problems. Some of them we were able to fix quickly, but at the moment two of them remains.
First of all it is a parallelization problem in Synfig – right at the moment it doesn't support more than one thread in commandline rendering. Of course we can always tell Remake to run several jobs at once, but that's not effective regarding to the memory consumption (considering that there us a shots requiring more than 3 Gb of RAM to render).
Second problem is more serious – we have hit a bug which leads Synfig to crash when trying to render animation with Warp layer at high resolution. It is really blocking issue and right now I'm looking for workaround.
This is all my news for today. Have a great week, everyone!