Last week I have spent 5 days attending the festival of children's animation "FireBird" in Novosibirsk. We had a screening of the work done by kids under my direction and got some awards. One of the important festival events was a meeting with Plenipotentiary Presidential Representative in the Siberian Federal District Viktor Tolokonsky. The talk haven't touched Morevna Project directly, but some of our latest achievements were mentioned.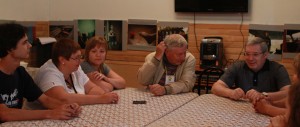 The bottom side of this event is that I almost haven't worked on Morevna during those days (you probably noticed the the missing weekly progress post). That means I am working this week with double efforts. Right now I'm reviewing all the work done by Nikolay during my absence.
Also, people reported the instability of the Synfig packages we provided in previous post. Looks like my approach for fixing "on-close" bugs was a bit wrong. Now I have made a different fix – it should be much more stable now. Please grab binary packages from the software page.
One important note. Looking at our modifications people may think that the main Synfig developers are inactive at the moment. This isn't true. Last months Carlos Lopez Gonzalez and Nikita Kitaev are working hard on implementing cairo-optimized rendering engine for Synfig Studio. This should give a major performance boost for the workarea redrawing operations and it is critical step for the whole project development. And of course this is a way more complex task than the tiny modifications we did. This is a long road, but I believe – they will succeed.
That's all for the moment – back to work!