Many of you probably aware about Synfig Studio 0.64.1 been released on 4th of November. This release brings several features which our character can benefit from. So, hereby, we are publishing the template updated for both sample characters. Enjoy!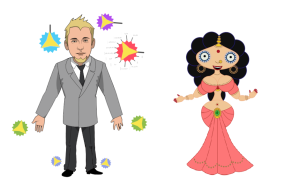 List of changes:
Compatible with Synfig Studio 0.64.1.
Control widgets are automatically hidden in final render and preview.
Interpolation for switch widgets is now forced to "Constant" by default.
Tutorial: https://morevnaproject.org/2013/04/15/character-template-tutorial/
* * *
Here I would like to say a few words about the future of this template. At the moment there is some work being done in Synfig Studio towards the new 0.65.0 release, which is promising to trash most of our efforts done for this character template. And this is for good! The thing is that we use a lot of ad-hoc solutions to implement the bones-like model here. This makes the template very slow as well as internally complex and hard to modify. But now we have a developer Ivan Mahonin working on the native implementation of bones and results are already very promising! You can see yourself in the video below.
So, when the bones implementation will be finished, we will be happy to trash the whole ad-hoc system and replace it with the native bones, which will bring the character template to the new level!
As I have mentioned, the work on the bones feature is being done by our dedicated developer Ivan Mahonin. This month his work is funded by community, and we are running a fundraising campaign to pay for his work in the next month. The success of this campaign will define whether Ivan will keep working on Synfig in December or not. So, if you would like to see this work continued, please consider supporting our fundraising campaign and spreading a word about it.