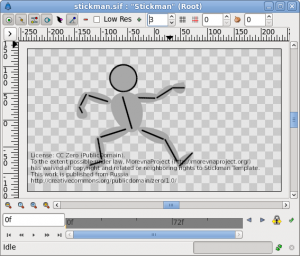 Morevna Project is proudly presents an update of Stickman Template. Stickman Template is used for character animation. It tends to simplify setup when you want to make animation in cutout technique or something more complex.
Changes:
New version includes dummy regions to quickly navigate through stickman structure. Just click on any gray region and start creating your graphics on top of it.
Additional exported values (stickman-amount/show-fillers) allows you to control stickman appearance.
General template  structure was improved – it is easy to change order of stickman's parts now.
Also notice the license change – it's CC Zero now! Enjoy!